Corrida Espacial #3 / Space Race #3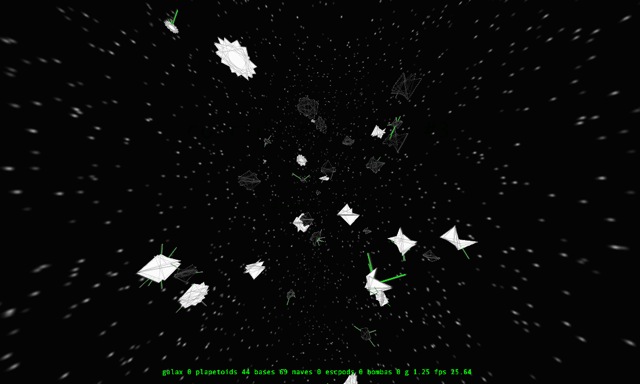 // descrição pt

Os planetóides nas galáxias estão povoados com equipas de agentes autónomos que competem entre si, explorando continuamente os recursos de combustível verde, fazendo crescer bases onde o acumulam, para levarem as suas naves a novos planetas, descobrirem novas galáxias, em viagens intermináveis. Corrida Espacial #3 é um trabalho generativo tridimensional que simula estocasticamente a exploração espacial; observamos do ponto de vista do universo o equilíbrio de cada sistema de planetóides, as naves lançadas no espaço movendo-se em função dos campos gravitacionais gerados pelos planetóides, alcançando novos mundos e reabastecendo-se, ou explodindo pelos ares e ejectando naves de escape, criando redes de cartografias caóticas pelo espaço. A inesgotável exploração dos recursos altera o equilíbrio e induz inevitáveis colapsos dos sistemas de planetóides, sob a forma de pequenos big bangs, levando o ponto de vista a visitar outras galáxias.


código sem som.
corre num computador + projector de video.

concebido e desenvolvido de junho 2008 - setembro 2008


run online work
- s373.net/x/corrida-espacial-3/ & b#21 e-zine vector


lançada
- no b#21 e-zine vector <link>

contacto para exibição : astronaut _at_ s373 _dot_ net






// description en

The planetoids in the galaxies are populated with teams of autonomous agents that compete among themselves, exploring continually the green fuel resources, growing bases that accumulate it, to take their ships to new planets, discovering new galaxies, in unending voyages. Space Race #3 is a tridimensional generative work that simulates stochastically the space exploration; we observe from the universes' point of view the balance of each planetoid system, the ships launched in space moving according to the gravitational fields generated by the planetoids, reaching new worlds and refueling, or exploding in the air and ejecting escape pods, making networks of chaotic chartographies across space. The never ending resource exploration changes the balance and induces inevitable collapses in the planetoids systems, under the shape of small big bangs, carrying the point of view to visit other galaxies.
silent code.
runs on a computer + video projector.

conceived and developed june 2008 - september 2008


run online work
- s373.net/x/corrida-espacial-3/ & b#21 e-zine vector


launched at
-
b #21 e-zine vector <link>

exhibition contact : astronaut _at_ s373 _dot_ net



real time video
Corrida Espacial #3 / Space Race #3
imagens corrida espacial #3